We all know how traditional marketing works. You choose your target group, invest in ads and spend a lot of time and effort on your strategy before seeing any results.
But what if you're a startup or small company, you don't have a big budget for marketing (or any budget at all), and only a really short time to achieve the scalability, all the while with competition lurking behind you?
Well, there is a solution for that. In 2010 Sean Ellis, an entrepreneur that worked in startups like Dropbox, Eventbrite and Lookout, created a concept called growth hacking. Simply put, it's a marketing technique that experiments with non-traditional use of various channels and helps to achieve viral growth.
You may dub growth hacking a buzzword, but it has really helped a lot of world-renowned startups such as Dropbox, Twitter, Pinterest, Facebook, Snapchat, Evernote and Instagram to grow to an enormous scale.
So let's discover…
What it takes to be a growth hacker
Steps to implement growth hacking in your company
Real-life examples of growth hacks used in other companies
Curious how does it work in practice? Let's have a closer look.
Growth hacker – a mix of creative marketer, engineer and data analyst
First, let's answer the question: who is a growth hacker?
A growth hacker is a creative marketer that thinks outside the box, an engineer with technological knowledge and an analyst that knows how to use the collected data to gather interesting customer insights.

Source: https://neilpatel.com/blog/cost-free-mobile-growth-hacking-tips/
The important difference lies also in the main goal. While a traditional marketer may concentrate on various fields such as increasing brand awareness or PR, the growth hacker focuses only on one thing from the very beginning – driving the rapid growth of the company.
Here's how Ryan Holiday explains it:
A growth hacker is someone who has thrown out the playbook of traditional marketing and replaced it with only what is testable, trackable, and scalable.
If you're feeling that you must change something in your approach in order to make marketing more successful, growth hacking is probably the best way for you. But how to start? First, you need to follow these 4 basic steps.
4 steps to growth hacking
There is no one commonly known theory on how to implement growth hacking in your company. It always depends on the goals and product that you want to promote.
However, Ryan Holiday distinguishes four steps that are significant to the growth hacking process.
Step 1. Focus on achieving a product-market fit
According to common belief, you should first enter the product on the market and then consider where all the failures come from. However, in times of demanding consumers and high competition, this approach is no longer profitable.
The worst decision that you can make is to enter the market with a product that nobody needs or cares about. That's why you should first create a product that is able to solve the problem of a precisely defined target group, then collect the feedback and modify the product accordingly, until it is met with a positive reaction.

Source: https://www.mindtheproduct.com/2017/07/the-playbook-for-achieving-product-market-fit/
Gather as much data as possible – conduct surveys and learn what people think about your idea, what it lacks and what is stopping them from recommending it to other people.
To make sure you have achieved a PMF, Sean Ellis suggests performing a simple survey among your clients and asking them: 'How would you feel if you could no longer use the product?'.
Very disappointed
Somewhat disappointed
Not disappointed (it isn't really that useful)
N/A – I no longer use the product
If 40% or more answer 'Very disappointed', it means your customers have achieved the 'aha moment' – they have discovered the real value of your product and how they can benefit from it. If the results are not that high, it means you should work more on your product and the words that you use to describe its usability.
How Airbnb achieved a PMF
Airbnb is currently a $25 billion room-letting company, but their beginning was not such a fairytale. In 2007, three guys living in expensive San Francisco decided to make some extra money and rent three air mattresses as a place to sleep in their flat with the promise of breakfast.
Here is the email that started Airbnb. Shown onstage at #TED #TED2016 pic.twitter.com/A2ZF9Epcxj

— Bill Gross (@Bill_Gross) February 16, 2016
This is when the simple website airbedandbreakfast.com was created. There was a big design conference in the town and people were looking for a cheaper alternative to hotels – this is why their idea panned out, and after few rentals they decided to work on it.
It took them several years to master the product and after many ups and downs, they finally achieved a product-market fit – they created a portal that enabled people to rent not only a room, but also the whole house, castle or even an island; a perfect solution for people bored of renting rooms in expensive tourist hotels.
Their example proves that it's worth working on a product to find the right market and make sure it will fully satisfy the needs of a target audience.
Step 2. Finding your growth hack
To understand the real meaning of this step we have to first overthrow the myth that success in advertising means reaching as many people as possible. In the growth hacking understanding, this approach is a total waste of money, as probably most of these people will never become your real customers.
Instead, you should focus on attracting a group of innovators, who are ready to test your product and check if it solves their problem. This way you are reaching a much smaller group of people, but you are gaining a very important value – if they are satisfied, they will become loyal. And the group of loyal users is able to bring the company more success than even several times larger group of uninvolved, indifferent recipients.
Finding your growth hack in this context means finding a way to reach the right people in the right time and at the right place with little to no cost, turning them into loyal and regular customers.
So, what can you offer to your users that will make them want to recommend you to others?
How Dropbox's simple tactic turned out to be genius
While examining the data about its users, Dropbox discovered that almost one third of its customers come from recommendations. Using this discovery, the startup created a new system offering 250 megabytes of additional space on the account (an impressive number at the time) in exchange for a Dropbox recommendation to a friend who would gain the same amount of disk space. This program contributed to the increase of signups by recommendation by 60%.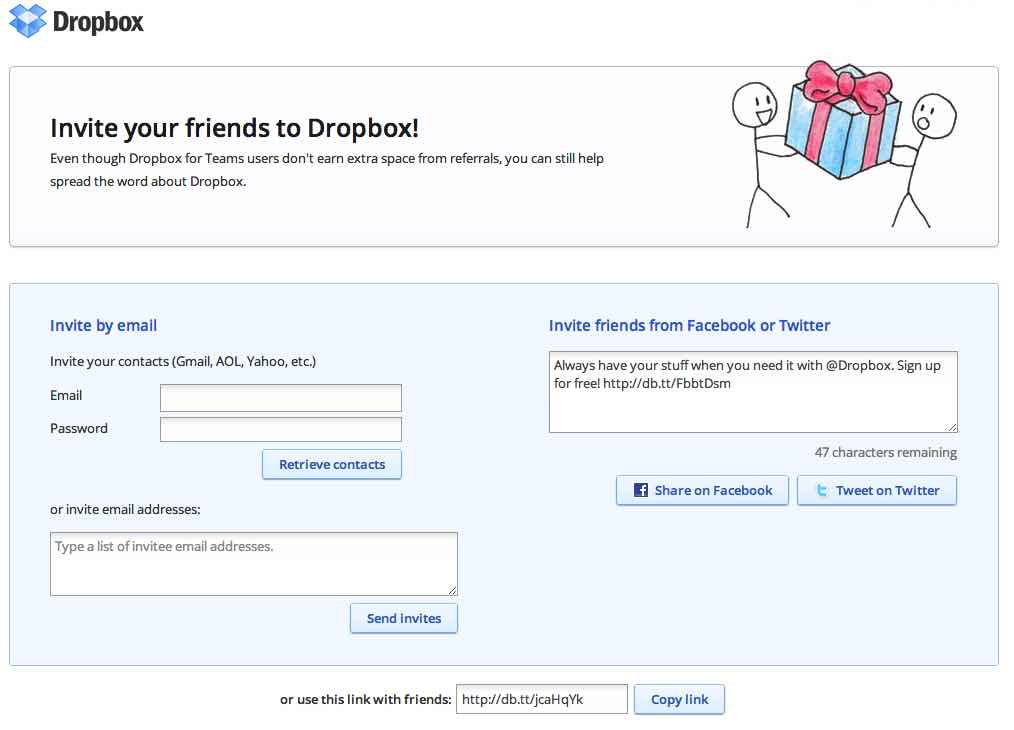 Source: https://www.growth-hackers.net/
Step 3. Going viral
Most social media users probably know what going viral means, or have at least participated in viral shares once or twice.
Let's assume you watched a cute video of a cat and you thought you should share it with some of your friends. 10 of your friends thought the same and then – boom! – the video has spread rapidly like a virus on the web, reaching millions of others people who did exactly the same thing as you did: recommended the content to their relatives. Those relatives were interested in this content because it was shared by someone they know, so they didn't treat it like an intrusive advertisement.
As you may assume, viral marketing is very effective and… cheap. That's why every company wants a viral spread of its content, but rarely anyone actually works to earn it.
Virility, contrary to popular belief, is not an accidental phenomenon. Information must be worth spreading and it must also evoke specific emotions in people – to move, inspire, and excite them.
Producing this type of content is not a piece of cake, but it's definitely worth the effort. While planning your next campaigns, try to think about their viral potential. Perhaps there is something that you can add to your ad that will move the users and make them want to share your content further?
How Hotmail gained 1 million users in 6 months
Founded in 1996, Hotmail was one of the first companies in the world to provide free email services. To acquire new users, they decided to use their current ones.
At the end of every sent email, there was an automatic message added to the footer: "PS. I love you. Get your free email at Hotmail". This way, each message sent was also a free advertisement of the company's services.
Although Hotmail, unlike its competitors, did not spend millions of dollars on its ad, thanks to its creativity, it managed to reach the level of one million users in just six months, which was only the beginning of rapid growth of the company.
Step 4. Retention and optimization
There is no sense in putting too much effort into gaining new customers if you can't retain the existing ones. That's why every growth hacker should be responsible not only for arousing the interest of potential clients, but also keeping them firmly in the company.
'If you create retained users then you've reached the holy grail of growth hacking.' – Neil Patel and Bronson Taylor, The Definitive Guide to Growth Hacking
How can you attain this holy grail? By constantly optimizing the product based on customer insights and making sure the clients are fully satisfied with your service (which can't be achieved if they don't understand how it works). Only with this you can build an effective recommendation system.
Curious about how it works in practice? Let's examine Twitter's case.
How Twitter found out why users were not staying
At the origin of Twitter, a special growth hacker team was set up in order to determine why, despite the fact that the platform attracted new users, they rarely stayed on the platform after creating the new account.
After analyzing the statistical data, it was found that those users who chose to follow 5-10 accounts on the first day were more frequent visitors and engaged guests on the portal.
That's why Twitter has since changed the process of signing up, offering users to select the first 10 people and suggesting much more choices, but not imposing anything in advance.
Over time, users began to understand that they can take full advantage of Twitter's capabilities by following others, so they began to do it more often, which increased the likelihood of them staying permanently.
This is how retention became one of the most important factors of Twitter's growth.
Summary
You may have figured out already that growth hacking is not a piece of cake. It requires a mix of various skills and a huge portion of creativity. However, many examples of its success are real proof that this effort is worth trying.
Despite the fact that growth hacking was created based on the startup business model, Sean Ellis believes that it can be successfully incorporated also in large, stable companies.
Are you up to the growth hacking challenge? Are you ready to revolutionize your marketing and business development efforts? I hope this article will help you to start!
——-
This article was based on two great books:
Ryan Holiday, Growth Hacker Marketing: A Primer on the Future of PR, Marketing, and Advertising
Sean Ellis, Morgan Brown, Hacking Growth: How Today's Fastest-Growing Companies Drive Breakout Success